Explore The All-New 2023 Ford F-150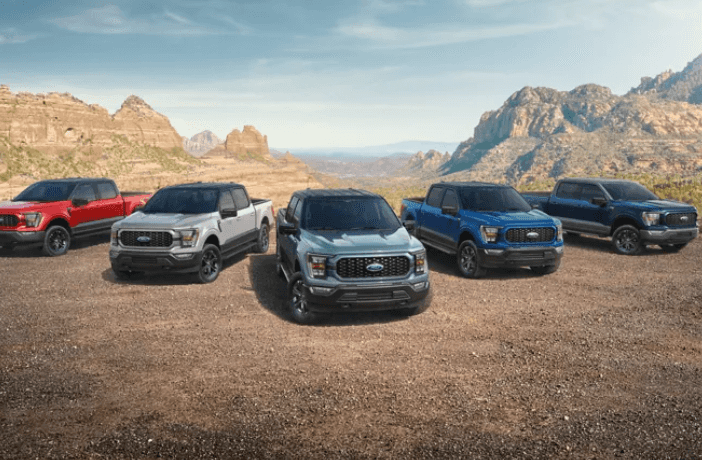 At Opelika Ford CDJR, we have one mission; to get you into the truck of your dreams. When it comes to the all-new 2023 Ford F-150, we have a wide selection of models and trims for you to choose from. With our knowledgeable sales staff and experienced financing team, we'll make sure the whole process is easy and stress-free so you can hop into the new 2023 Ford F-150 and hit the road.
Performance for Work and Play
Whether you need a truck for work or for play, the 2023 Ford F-150 has the power and capability to get the job done. Under the hood, there are six engine choices including a new hybrid powertrain. When properly equipped, the 2023 Ford F-150 can tow up to 12,700 pounds and has a payload capacity of 2,120 pounds.
Some of the best features that make this truck perfect for off-roading or work on the ranch include:
3.5L PowerBoost™ Full Hybrid V6 engine or upgraded 5.0 L Ti-VCT V8 engine
450 horsepower
570 lb-ft of torque
10-speed automatic transmission
8 different selectable drive modes
14,000 towing capacity
Dual-exhaust system
Hill-descent control
Locking rear differential
Off-road suspension system
With so many features, it's no wonder the F-150 is America's best selling truck year after year. And 2023 is no different, with Ford adding even more features and upgrades that truck lovers will love. From its selectable modes to the all new hybrid powertrain, the 2023 Ford F-150 has something for everyone.
We recommend exploring the different trims, such as the Rattler, which provides an added dose of off-road capability at an affordable cost! With so many trims and configurations, the 2023 Ford F-150 is sure to have a perfect match for your needs. Whether you need a powerful 5L V8 for towing and hauling or the new hybrid powertrain for maximum efficiency, we have the F-150 you're looking for here at Opelika Ford CDJR.
Different Driving Modes for Different Folks
With eight different selectable drive modes, the 2023 Ford F-150 is ready for anything. Choose from the following modes to help you complete your journey and adventure.
Eco Mode: This mode is designed to help you conserve fuel and get the most out of your hybrid powertrain.

Normal Mode: This is the default mode for everyday driving on the streets, into town, and with the family.
Mud Ruts: Boost torque and lock 4 wheel drive system to help you maintain the best traction in the mud.
Rock Crawl: Maintain control and traction even in the toughest conditions through dampened acceleration and minimized throttle response.
Slippery: Drive with confidence in icy or slick conditions.
Deep snow and Sand: Power through sand dunes and maintain traction thanks to increased power delivery and improved torque.
Sport mode: Improve your 0-60 time and have more fun on the open road.
Tow/Haul: This mode is perfect for those who need to tow or haul heavy loads. It increases power and helps you haul your trailer in stop and go traffic.
There's a mode that will help you stay safe, enjoy the ride, and get the most out of your truck no matter what you're doing. Come see us and test drive the all-new 2023 Ford F-150 and experience these modes for yourself!
A Hybrid Powertrain for Optimal Efficiency
One of the biggest changes for the 2023 model year is the addition of a hybrid powertrain. This new powertrain is designed to deliver the best possible fuel economy while still providing plenty of power when you need it. The 3.5L PowerBoost™ Full Hybrid V6 engine is the most powerful hybrid engine ever offered in a truck and it's paired with a 10-speed automatic transmission.
This new powertrain can deliver 700 miles of driving range when paired with a 35kw battery pack. That's enough to get you from Atlanta to Birmingham on a single tank of gas! And with an EPA-estimated rating of 26 MPG combined, you'll be saving money at the pump too.
Enjoy America's Favorite Truck Today at Opelika Ford CDJR!
If you're looking for a truck that has the power and capability to get the job done without breaking the bank, the 2023 Ford F-150 is the perfect choice. Come see us at Opelika Ford CDJR and test drive the all-new hybrid powertrain today! We're your truck experts and will help you find the best vehicles today!